There's not a kid on the planet who doesn't love the Balboa Fun Zone! Games, prizes, rides and junk food – what more do you need? And if you're vacationing on Balboa Island, it's just a ferry ride away.
Catch the Balboa Island Ferry at Agate Street on foot or on bikes (Adults $1, Kids 5-11 $.50, Kids under 5 are free, Bikes add $.25.) No matter how many times you've taken the ferry, the quaint experience just fills you up inside. You feel like you're doing something the exact same way people were doing it 50 years ago.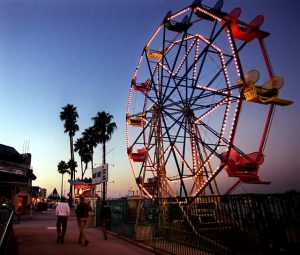 The adorable Ferris wheel is the first thing you see as you exit the ferry onto the peninsula side. For $4 per person, you'll enjoy a generous ride with fantastic views of the ocean, Newport Coast, Fashion Island and of course, Balboa Island.
Some newer rides provide some serious thrills! You can ride a bull shark, just like a mechanical bull. The Ocean Motion bungee trampoline sends you soaring safely to the sky. The Fish Pipe is like a giant hamster wheel filled with water, and the Gyrtoextreme is sure to test your stomach with its flips and twists. These are $10 each per ride and include a free kid's admission to the nearby ExplorOcean, an ocean education center for kids. Some of you may fondly remember the high-speed carousel and wild bumper cars that were previously in that space.
Old-fashioned arcade games are the next stop on the boardwalk. The Bay Arcade has been operating since the 1950's and is filled with amusements including Skee Ball, Wheel of Fortune and loads of other games of chance. There's even a talking fortune teller machine. Most of the games use tokens, and save your winning tickets to collect your prizes at the end.
Walking the boardwalk is the best – lots of kitschy beach shops, souvenir stores and treats to eat. Corndogs, pizza, ice cream, French fries, you name it, and it's there. You'll also find options for water sports rentals and tours for later in your trip.
It doesn't matter how old you are, everyone's a kid at the Balboa Fun Zone!