Where is the Balboa Island Ferry located?

The ferry which takes people, cars and bikes to Balboa Island departs from the Balboa Peninsula, in Newport Beach. Some people believe that taking the Balboa ferry is the only way to get to Balboa Island, however that is not true. Balboa Island is accessible via a bridge from Bayside Dr and the popular PCH (pacific coast highway/route 1) which runs parallel to Bayside.

How Much Does the Balboa Island Ferry Cost?
Car & Driver – $2 (Passengers Extra)
Motorcycles and Mopeds – $1.50

Bicycles
– $1.25 (Adult)
– $0.75 (Child)

Pedestrians and Vehicle Passengers
– Adults – $1
– Children (5-11) – $0.50
– Children (Under 5) – Free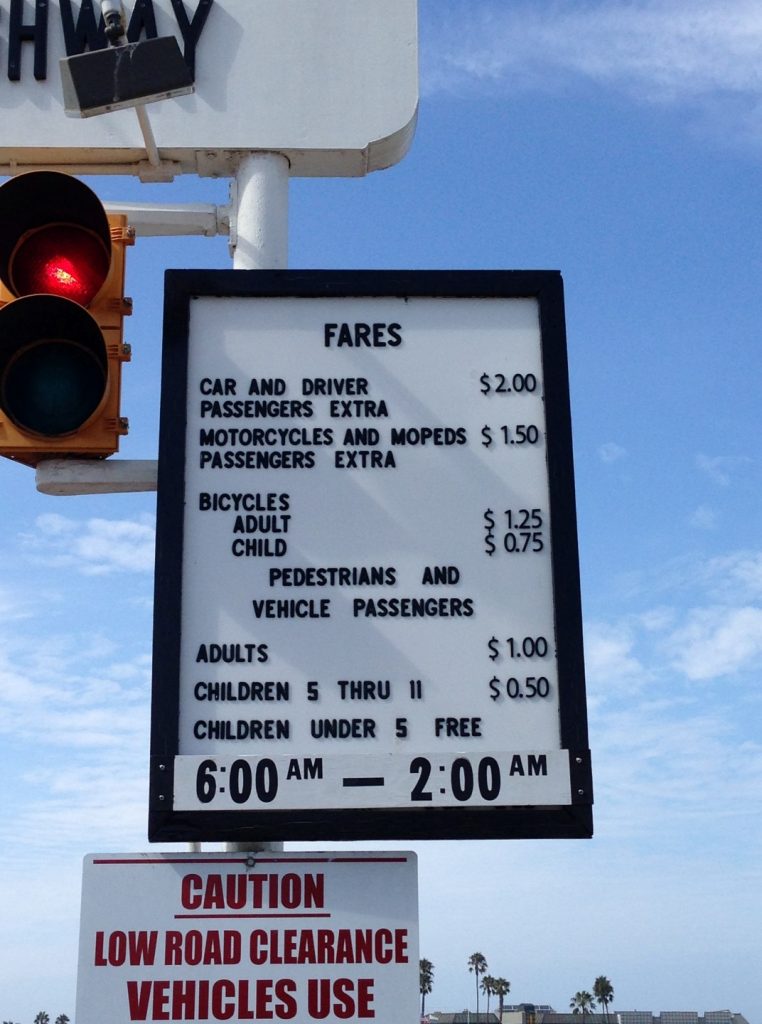 How Long is the Wait for the Balboa Island Ferry?

If you are a pedestrian or on a bicycle, the wait for the Balboa Island Ferry is not that long. You can go right up and board immediately. If the ferry is not there at the moment, it's usually less than a 5 minute wait. If you are in a vehicle, it depends how many cars are in front of you. There are times when there are over 10+ waiting. The Balboa Island Ferry can hold 3 vehicles so 10 cars would take approximately 15 minutes or more. Some people believe the balboa ferry is the only way to access Balboa Island or Balboa Peninsula, however that is not true. You can reach both locations from PCH. View Maps & Directions

What Time of the Day does the Balboa Island Ferry operate?

The Balboa Island Ferry is open for operation from…
Sunday – Thursday: 6:30 AM – 12 AM
Friday & Saturday: 6:30 AM – 2 AM

What should I do while riding the Balboa Island Ferry?

Whatever you do, act fast! The ride is quick. Most of us wish it was longer. If you are in a vehicle, don't be afraid to jump out for a quick photo. Most people love to capture the moment with the historic Harbor Pavilion and Balboa Ferris Wheel in the background. Near the balboa peninsula landing, you will often see sea lions that are hoping to get scraps from the nearby fishing boats returning from the excursions.

What is there to do once I take the Balboa Island Ferry?

That depends on which direction you are headed! Are you wanting do do something active? Do you have kids? Are you hungry? If you are heading to Balboa Island then you should definitely hit Marine Avenue! Get a Balboa Bar or Frozen Banana or dine at one of the restaurants on Marine Avenue. Do some boutique shopping and walk the island. The entire island bayfront is a sidewalk. If you walk the big and little island it is a 2.5 mile journey. If you walk just the big island perimeter is is 1.8 miles.

What is the History of the Balboa Island Ferry?

Since 1919, Balboa Island Ferry has provided continuous service for drivers and passengers in vehicles, cyclists, and pedestrians between Balboa Island and Balboa Peninsula in Newport Beach, California. Crossings approximate 800 feet. Via bridges, an alternate route is possible; but the traveling distance increases up to six miles. Many choose the ferry's direct route and scenic crossing. View their website!