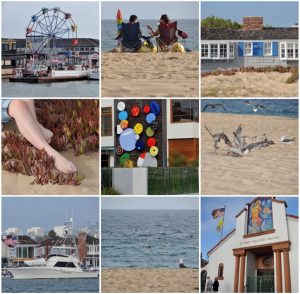 Oftentimes, when photographers commit to a photo session, they immediately want to know where the location will be. Finding out this detail ahead of time prepares them for the kind of photographs they can expect to take. The more interesting the location the more creative photographers can be with the elements of good composition.
If you're looking for a location that's simply irresistible to the lenses, head over to Balboa Island. This tiny community is home to some of the most photogenic spots in Orange County. Needless to say, it's almost impossible to take a bad picture of this place.
What makes Balboa Island a haven for photographers, visitors and locals alike?
At Balboa Island, photographers are treated to a visual repertoire of backgrounds ideal for almost any type of photography. This location offers so many different options for photographers to achieve depth, color, texture, pattern, and personality in their shots. Then there's the presence of ocean water, sand, and sky surrounded by Southern California architecture that photographers can always count on to tell a story.
Outlined below are some ideas for photo sessions in which Balboa Island would naturally stand out as a location of choice.
Pre- Nuptial Photo Shoots
Gone are the days of blasé engagement photos that never make their way outside of a dusty leather album in the living room. Modern couples are more intent than ever to show off their pre-nuptial photos to the rest of the world by arranging hip and trendy photo shoots complete with props, costume and-you're right-the perfect venue!
Fun-loving couples with a carnival-themed engagement session in mind can head over to the Balboa Fun Zone where they can frolic in a Ferris wheel, bumper car rides, or the carousel as the photographer captures the moments. Play at the arcades or a share romantic kiss on the oceanfront boardwalk while people in the background pretend not to notice. For an after-dark effect, wait for the beautiful evening lights reflecting across the water from the Balboa Pavilion and the Fun Zone to appear and enjoy.
Post- Nuptial Photo Shoots
Maybe a couple didn't have enough time on their wedding day to indulge in a longer photo session. They can always visit St. John Vianney Chapel for traditional post-nuptial shots that are guaranteed to be timeless. When the sky is clear and turns a deep blue, the colorful mosaic on the chapel's façade will serve as a dramatic accent as they pose in their wedding garb.
Summer Photo Shoots
A quick glance at the beaches on Balboa Island and one might forget all about Malibu. Wide stretches of sand lined with quaint beach homes make way for a great many angles for photographers to play with. Notice how the seagulls the background and sand plants add texture and life to the photos. Right beyond G Street and Ocean Front is a beautiful spot to catch the best lighting on the beach. Did we mention the sunny weather?
Portraiture
Background texture can make or break a portrait. Wooden doors, Mediterranean homes, and outdoor abstract decors are some of the most striking background textures that can be found at Balboa Island.
Travel
Balboa Island openly welcomes travel photographers. There are so many areas that capture the essence of the island. From the charming harbors filled with luxury yachts and the Balboa Pier at the peninsula frequented by tourists.
TIP: The best time to arrange a photo session at Balboa Island is during the week when it's not so crowded. This way finding parking and navigating the area from one location to another won't be too time-consuming.
So snap away and remember to bring extra memory cards. There are endless views to stumble upon at Balboa Island.
Do you have some great photos of Balboa Island? Share them with us!