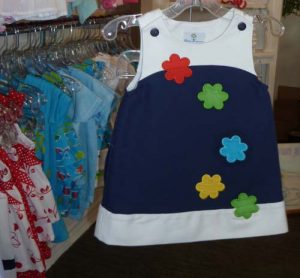 For Balboa's tiniest tots, classy in-style duds are just as important as they are for their parents. This season's hot trends are 50s style frocks for girls, nautical patterns and lots of accessories from flowered headbands, to hand knitted hats, shoes and purses!
One of Balboa's long standing baby boutiques, Magnolia Charlie, located at their new locale 209 Marine Avenue, has all of the above in-stock and in style. They offer coordinating outfits as well as shoes, hair accessories and hats to help parents get more wear out of every designer outfit. Prices range from $20
up to couture lines priced at $150. For example, this beautiful blue flower shift dress by Florence Eisemen is $80.
Another great local spot for the latest in high-end baby fashions including Christening gowns, jewelry and hairstyle accessories is The Red Sail located at 301 Marine Avenue. They have a beautiful assortment of keepsake baby dresses, booties and hand-made hats that your family will cherish for the next generation of your clan.
And they were just nominated by the OC's Hot List for Best Children's Clothing Boutique!
Whether you're a local browsing for your brood or a vacationer wanting to take home a piece of Island life with you, these hot trends in kiddie clothing are sure to be classics you can treasure for years to come.
Happy Shopping!