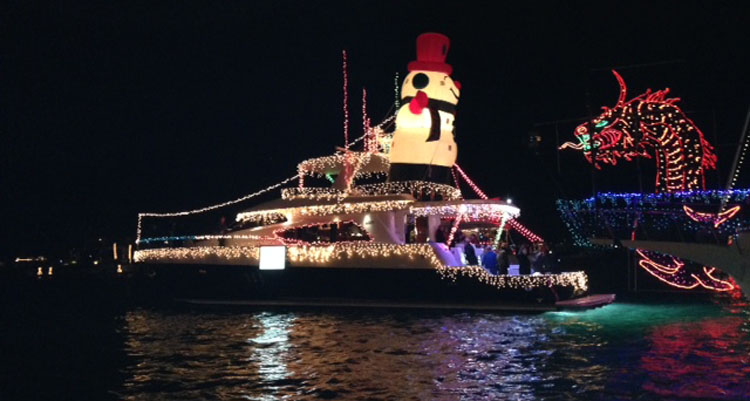 The 2013 Newport Beach Christmas Boat Parade began with a bang tonight as fireworks lit up the sky over the Balboa Pier. Then approximately 100 illuminated vessels, from multi-million dollar yachts to small Duffy boats, began their annual procession through Newport Harbor.
Known as "Newport Beach''s Christmas Card to the world," the boat parade began in 1907 with gondolas and canoes decorated with Japanese lanterns. Today, the boat parade is seen by almost a million people every year, from homes, restaurants, boats and public beaches in Newport, Corona del Mar and Balboa Island. It''s a magical tradition that locals and tourists take part in each year.
The parade runs Wednesday, December 18th through Sunday, December 22nd from 6:30 p.m. to 9:00 p.m. It takes off at Bay Island and cruises through the harbor, finishing back at the starting point. Hosted by the Newport Beach Chamber of Commerce's Commodores Club, this year''s theme is "Rockin' Around the Christmas Tree!"
Participants always go all out with their decorations! From icicle lights to T-Rex, the trimmings were creative this year. According to the Chamber's website, some boat owners have spent over $50,000 to decorate their boats with amazing lights, music, and animated figures. They compete for awards including Most Humorous, Best Theme Presentation and Best Music.
Balboa Island is a perfect spot to watch the boat parade! Whether you walk the boardwalk or attend a boat parade party, the harbor sights are just steps away. Victorian-style carolers and musicians stroll about entertaining the crowds, and the homes are beautifully lit for the holidays.