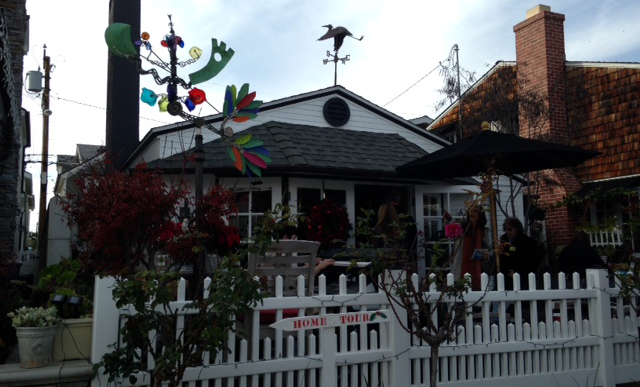 2013 Balboa Island Home Tour Impresses.
Imagine opening up your home to the public during the holidays. With all the shopping, wrapping, and cooking going on, turning your home into a holiday showplace would be no problem, right? Well, that's just what some generous homeowners did for the 17th Annual Balboa Island Holiday Home Tour on Sunday, December 8th.
One of the most popular home tours in Orange County, this one offers the chance to visit beautifully decorated beach cottages and bay front homes. Attendees casually walk the island at their own pace and enjoy getting a close up view of places they've only glimpsed from the outside.
This year's tour featured seven homes, each with unique style, from quaint beach cottages to larger, new construction. Carolers sang and pianists performed outside some of the locations, creating a lovely seasonal atmosphere.
One residence was just spectacular, with extra luxuries including a butler's pantry, elevator, recessed bar and wine cellar. The house also has radiant heat in the bathroom floors, a television within the mirror, and upper deck with a hot tub and outdoor grill and fireplace.
The home of renowned sculptor, Miriam Baker, was also part of the tour. Many people have seen her at work as they walk by, so going inside was a delight. Hundreds of her stunning sculptures and paintings were displayed, as well as an extensive collection of art from all over the world.
The Balboa Island Museum and Historical Society was part of the tour this year. Recently relocated to an old cottage on Marine Avenue, the museum displayed historical photographs and provided refreshments and singing entertainment.
The Balboa Island Home Tour is presented by the Balboa Island Improvement Association. This year's generous sponsors were The Village Inn, Olive Oil & Beyond, Balboa Candy, 2 Eleven, Art for the Soul, and Park Avenue Café.
View holiday pictures from Balboa Island here.