Duffy Boat Cruising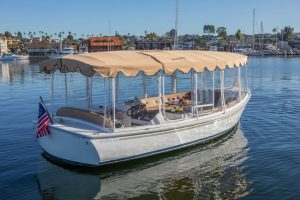 Don't let the summer pass you by without taking a Duffy boat cruise. What are Duffy boats? Small electric boats that are so easy to steer, they're almost like golf carts on the water. They're designed for small groups to hang out and navigate around the bay at a low speed. Perfect for a sunset happy hour or lunchtime cruise!
Duffy boats were invented by Marshall "Duffy" Duffield, when he was a teenager living in Newport Beach. By cobbling a together a golf cart battery and a day boat, the quiet bay cruiser was born. Now, Duffy boats are seen all over Newport Beach, Huntington Beach, Long Beach and even other parts of the world.
A Duffy ride is easy to pull together. Just make a rental reservation and plan a picnic for your harbor jaunt. You'll want water, wine and cocktails for sure, and the boat rental places will usually provide ice. For food, anything from Trader Joe's to a party platter from El Ranchito or Bristol Farms works. Remember to bring plates, cups, napkins and plastic ware. You can connect your smartphone or iPod to the boat for music.
Meet your group a few minutes early to check in and load up. You'll get a rundown of the rules of the water and receive a map of the harbor with geographical and historical landmarks. So relax and get comfortable in the couch and table setting. If it's chilly, simply pull down the plastic canopies.
Newport Harbor is so beautiful, and it's exciting to see the homes and businesses all along the water. Balboa Island, Lido Isle and the peninsula all look so different when you view them from the bay. And you'll see a variety of boats from gigantic yachts to dinghies. It's fun to see the boat names and locations, which are sometimes from exotic places a world away.
Duffy Boats are available for rent at Duffy Electric Boat Rentals and Marina Boat Rentals, as well as many other places in Newport Beach. Make your reservation in advance, and be sure to ask for a boat big enough to hold your party of six to 12 people. Rentals range per hour, but call for the latest information. Children must wear life jackets.
Time to start cruising Newport Harbor