Sorry, this listing is no longer available
...but we've got 62,252 more for you to search through.
Start A New Search
Balboa Island Real Estate by Category
Off- Market Opportunities
In this competitive real estate market on Balboa Island, a lot of properties get sold prior to being listed on the MLS. Smart buyers are not waiting for a home to hit the market and then compete with all of the other home buyers. Instead, they are seeking out off-market opportunities. These are homeowners that have said they are interested in selling if they got a certain price or plan on bring the home on the market in the future (once a tenant moves out, divorce is finalized, or they locate their next property). It could be a number of things. Working with a local realtor that specializes in Balboa Island is critical, when it comes to off-market options. A realtor that is specifically focused on Balboa Island properties will have the inside scoop from owners, neighbors and the few other realtors that have a grasp on selling homes on Balboa Island.  If you have been struggling to find a home on the island, please contact me so I can make you aware of upcoming properties before they are listed for sale on the open market. Contact me at steve@balboaisland.com or 949-607-8122 to let me know what you are looking for.
View Balboa Island Real Estate for sale! Discover luxury bay front homes, cottages, investment properties, vacation rentals and more! Search now. Interested in purchasing property on beautiful Balboa Island? Let a qualified Balboa Island Realtor navigate you through purchasing the the right property, and maybe help add it to the rental market here!
Balboa Island Homes For Sale Listing Alerts
In this competitive real estate market, every second counts! If you are interested in buying a home on the island, you need to be alerted the second a new listing hits the market. You also need to know of price reductions properties already listed for sale. We have an alert system that will update you immediately when a home is listed for sale or has a price reduction. Sign up and be the first to know so you can secure your dream property before other buyers.  If you have been thinking about selling your home on Balboa Island in the near future, this is a great way to stay on top of the market.  When you get the email that a new home is for sale, you can check it out during the open house and get an idea of how your home compares.
Monthly Balboa Island Real Estate Market Report
Our monthly Balboa Island Real Estate report is a beautiful overview of what is going on specifically on the island. You will get one email per month with a easy to understand overview of transactions, pricing, and more. We will show you the median sales price over the last 6 months along with average days on market per listing. We also calculate a sale-to-list price ratio for all listings. For example, the current "Sale-to-List Price" for Feb 2018 is 89%, which means homes are selling 9% below their listing prices. We also report the number of homes that are active for Balboa Island along with the number of new listings and sold listings within the last 30 days.  This is the latest Balboa Island Market Report. If you would like to receive it monthly, click the Sign Up Button at the top left! And please, reach out to me anytime you would like to chat about the market or get an idea about buying or selling a home on Balboa Island. I would love to meet you and provide some insight.
Location! Location! Location!
This frequently mentioned "location, location, location" is hands-down the most critical component when buying a home and even more so when buying a home on Balboa Island. Obviously the location is critical in any community, but on Balboa Island there are numerous things to consider that most out of area buyers are not aware of. There is nothing worse than purchasing a home on the island, only to realize after you move in that there are some critical flaws with your location. Location is what you are buying as it is the one thing you cannot change. Everything else can be changed!
A realtor like myself, that knows Balboa Island from a resident's perspective can give you the inside information on what you will experience based on location. What are some examples? Balboa Island is unique to every other community in Newport Beach. The island is a tourist destination. There are roughly 6,000 people on the island. Only 40% of the island is full time residents! This means 60% of the homes are vacation rentals or vacation homes for owners that have a primary residence out of the area. Vacation rentals are essentially motels. Depending on your use of the property, this type of ownership use might matter to you.
When it comes to location, tourists and residents flock to Marine Ave for dining and shopping. If you live on Grand Canal on the big island or the west side of Onyx, you should consider the alley traffic that delivers to all of the local businesses on Marine Ave.  Onyx Ave in general will have a lot of traffic, especially in the 200 block as residents use that to drive off the island quicker than being stuck on marine avenue. If you want to be close to the amenities of Marine Ave but not have issues with traffic and street parking, than you might consider paying a slight premium for a home on the little island.
On the big island, some streets are wider than others. Narrow streets can make it a bit more difficult to parallel park and drive safely.  At the end of the big island you can find parking with ease, but you are 1 mile from Marine Ave, so if you want to grab a Starbucks or visit the Village Inn, you'll want to consider the time to walk, bike or purchase a golf cart. If you are buying in the 100 block of Agate, you or the 200 and 300 blocks of Marine, you will want to consider the exhaust that comes from cars waiting for the ferry of coming on and off the island.
If you want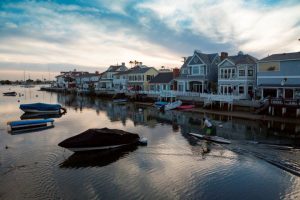 a water view or to buy for a boat location in the harbor, you will want to consider the big differences between properties on the North and South Bay Front. South Bay Front Sidewalks from Agate to Marine Avenue are going to have much more foot traffic than anywhere on the bay-front. At the same time, this South Bayfront is the most central location to the harbor and provides the most expansive water views and views of the Harbor Pavilion, Ferris Wheel, and Sunsets. North Bayfront is going to have much less vessel traffic. You will experience sunrises rather than sunsets and you have the wonderful Ruby beach…  There are so many things to consider when it comes to the location of a home on Balboa Island. Let me know what is important to you and I can make sure you end up where you want to be!
Current Values of Homes and Lots For Sale on Balboa Island
Here are some current average prices on Balboa Island. Your average tear-down/lot value for an interior lot will sell for 1.9m-2m. It's 3,800,000 for a tear-down on North Bay Front and closer to 4.5 million on South Bay Front. East Bay Front and Collins Island demand a premium. New construction, on interior lots, is selling for 3.8-4.2 million. Most 5-10 year old homes are selling for 3-3.5m at this time. Duplexes/Rental Properties that are not necessarily tear-downs, and have some value in the structure, are selling for 2.5-3m depending on the condition and location. If you would like to get a good understanding of the current value of your Balboa Island property, please contact me so I can tour it and show you the latest comparable sales. We may be able to sell it for a premium as an off-market opportunity or list it and market it to our massive traffic on balboaisland.com and our social media following! This website gets twice as much real estate traffic as Zillow and we have over 15,000 followers on social media!
Not sure if Balboa Island is the ideal place to call home? Learn more about the other nearby communities! From islands to coves and the peninsula, we can help you get a better understanding of what the lifestyle looks like in each community and how they compare to others.  We breakdown each community discussing the number of homes, HOA (if any), zoning for commercial businesses and vacation rentals, private access and many more things! Learn More